Ring Doorbells
The Ring Video Doorbell 
allows you to set up motion detection zones which alert you when movement is detected. By sending an alert to your iOS or Android mobile device using the Ring app, you can keep track of what is happening around your property at all times.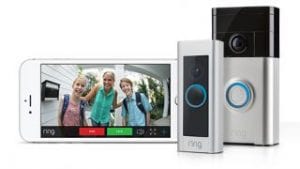 With a camera that covers a full 180 degree field of view and a range of up to 30 feet, the 720p HD wide-angle lens allows you to review your recordings in high quality. There are also infrared LEDs to allow you to see clearly even in the dark.
Save and review your video
You receive a free 30 day trial of Ring's cloud storage feature, allowing you easy access to the video recorded by the Ring Video Doorbell. Once this trial has finished, you can also subscribe for further access to the Cloud storage with both monthly and annual fees.
Two-way audio
In addition to video footage, the Video Doorbell enables you to speak with visitors using built-in speakers and microphone. This makes it even easier to communicate with visitors to your home, allowing you to keep your home even more secure. Things to consider:
Any cameras you install must only be used for the purpose they are designed for. This means they can only be aimed at property you own, and cannot be pointed at a neighbour's house, a public place or be used to violate the privacy of others. Cameras used for home security do not need to comply with the Data Protection Act. However businesses do, so legal advice is recommended before installing cameras for business or professional use.
The only thing home users need to remember about the footage captured is that it cannot be shared online or with other people, unless used in a criminal investigation. Businesses must keep all recorded footage secure and comply with the Data Protection Act.
We can install all model of Ring and smart technology in your home