HDMI
HDMI DISTRIBUTION
Foxtel specialise in the professional installation of the most advanced HD distribution Technology.
We can design, supply and install systems to cater for both the home and business user, delivering multiple HD content to one or numerous locations with a fully integrated and discreet infrared control.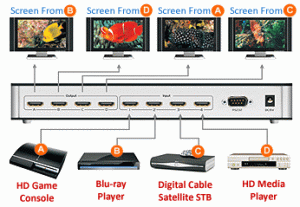 Example
This 4 In 4 Out HDMI matrix system allows users to control and route HDMI signals from any of the 4 connected HDMI input sources for outputs to any of the 4 connected HDMI displays in real time. The selected HDMI Inputs will be properly buffered and routed to each assigned HD monitor/projector or HDTV display in any way needed.
Services we supply:
• HDMI splitters
• Switchers
• HDMI Matrixes
• HDMI over CAT distribution and HDMI signal conversion
Some of the major brands we work with: